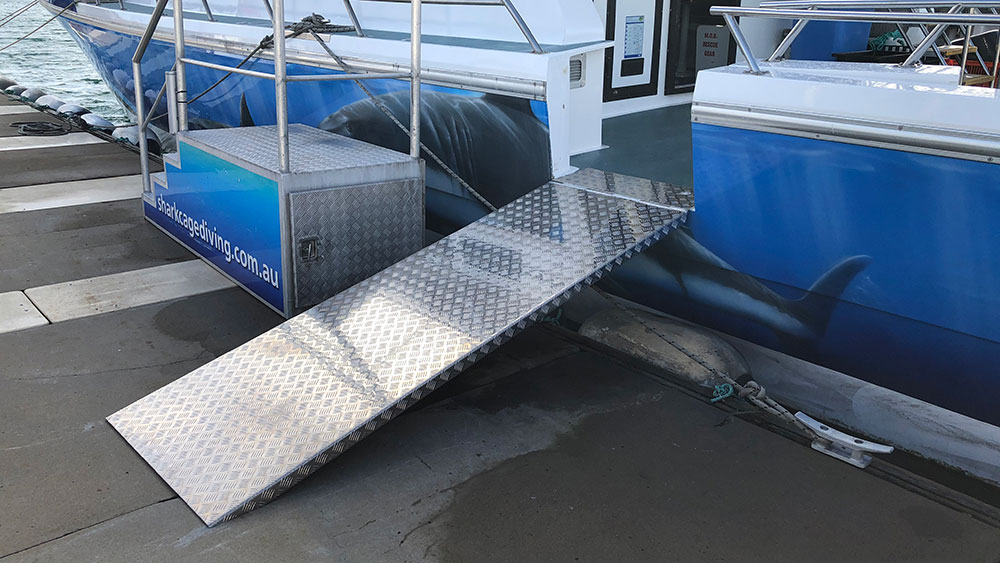 Our vessel Calypso Star 2 is now more accessible with the addition of a ramp for wheelchair access to the vessel from the marina pontoon and a set of ramps to go over a coaming in the main saloon doorway.
Local fabrication company ProFab designed and constructed the access ramp to enable wheelchair access to the main deck of the vessel. This ramp had to be hinged as the height of the deck above water level can vary several centimetres depending on how much fuel and water, we have on board. With the assistance of the crew, guests in wheelchairs can easily gain access to the lower deck of the vessel. It's an easy job for the crew to install the ramp when needed.
One of our crew, James, is also a carpenter. He made quick work of knocking together a set of ramps to go over the coaming in the doorway to enable easy access inside the saloon area. When the ramps aren't used, they are easily packed away.
Once the ramps were completed, we've had 2 guests in the first week use them. Jarrod, a fanatic Port Power supporter, and his carers Florence and Alex came on board for 2 trips and Peter and his partner were on board the very next trip.
Unfortunately, the coamings in the doorways of our (and most commercial vessels) are a survey requirement, to ensure water doesn't make its way inside the hull of the vessel. If you are in a wheelchair or know people in a wheelchair that still want to experience shark cage diving, please contact us to discuss your individual requirements and we'll do our very best to make it happen.