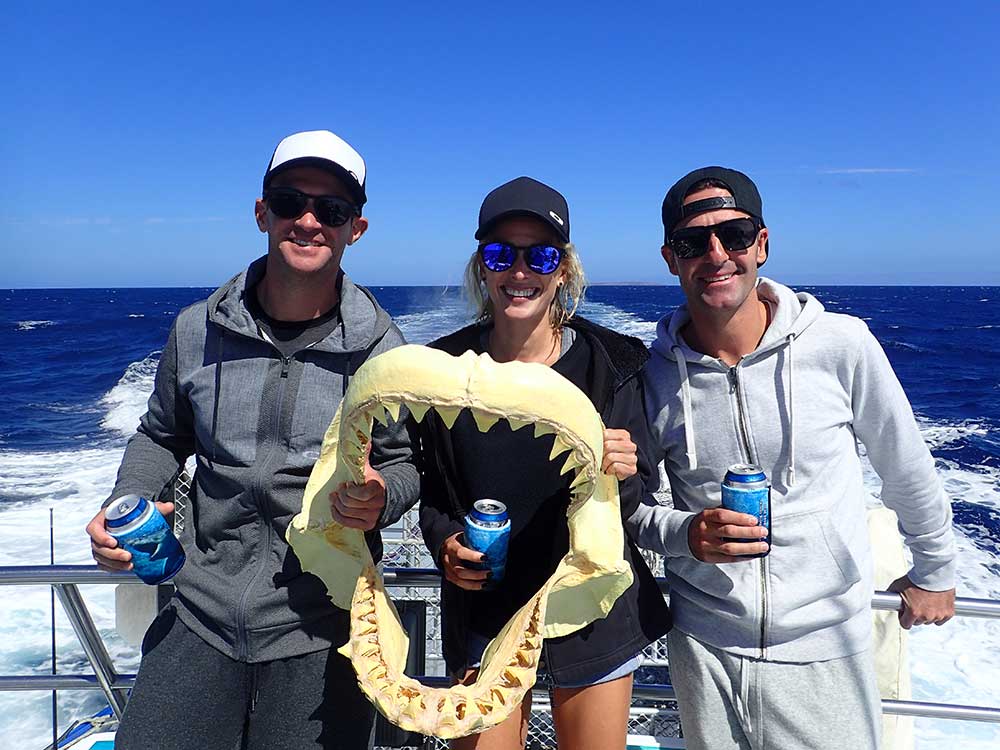 On Monday 6th March 2017 V8 Supercar drivers Will Davison & Jamie Whincup joined us on board.
Will has previously shark dived with Calypso about 3 years ago as part of a cross promotion of Clipsal 500 the Tour Down Under, where English cyclisist Sir Chris Hoy joined Will Davidson and Rick Kelly on board. Each year since he had been in touch with us but a trip never eventuated.
Early in the New Year he contacted us and wanted to bring his fiancé Supercar reporter Riana Crehan for a dive, Jamie Whincup was also keen to join them.
In the lead up to the day it was touch and go as we had a few weeks from late January of no sightings but thankfully the sharks returned a couple of weeks ago just in time. It was always going to be a rush for them to catch the last flight to Port Lincoln but they made it work.
The sharks must have known about the special guests as they saw a 2.5m Bronze Whaler and a 3m Great White Shark.
Both Will and Jamie commented how being in the shark cage put them in their place and made them appreciate the grace and beauty of such a magnificent animal. They said 'it was great to get off the racetrack and switch off for a while'.
In an interview with Southern Cross News both drivers suggest that anyone coming to Adelaide should make the effort to come to Port Lincoln for the shark cage diving experience, both were very complimentary about Port Lincoln although only here for a short time.
Check out the interview by Jason Kemp from Southern Cross News
Footage and photos taken on the day!