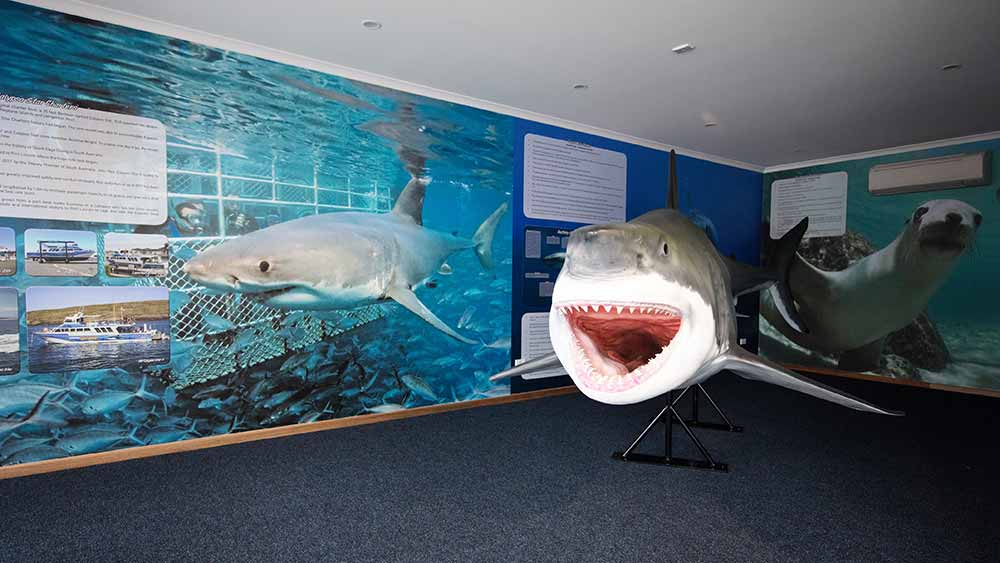 Our newly renovated office and Shark Display is now open!
Home to our replica 5m Female Great White Shark, the walls are adorned by floor to ceiling wall paper showcasing Shark and Sealion information as well as some information about our company and vessels.
We have also added a huge map of the local area including the National Parks, Marine Parks and the islands we visit.
The Shark Display and office is now open for check in prior to all tours with tea and coffee and free WiFi available and plenty of free parking.
All an easy stroll to the boats. A wide range of souvenirs from T Shirts, Hoodies and Hats to Replica Teeth and Bottle Openers as well of some items that you might have forgotten on your travels like seasickness tablets and polarised sunglasses (to make spotting sharks easy) are available for purchase from our store.
The shark display isn't restricted to those that are booked on a tour, everyone is welcome to come and have a look (and a selfie).
Located at 10 South Quay Boulevard, overlooking the beautiful Lincoln Cove Marina, adjacent the Port Lincoln Leisure Centre and the Marina Hotel.