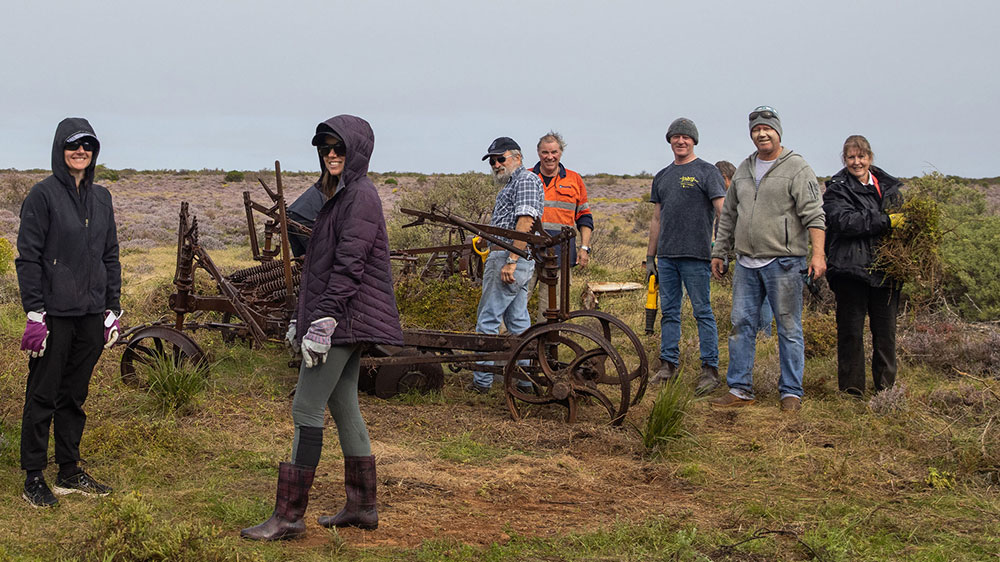 On Sunday August 23rd we assisted the Friends of Reevesby Island Group (FRIG) to take a group of volunteers, 800kg of pavers and a lot of equipment ashore for a working bee. The vessel charter was a donation from our Local Environment Fund.
Their aim for the day was to restore some existing walking trails on the island so that the historic homestead, the sheds and several pieces of farm equipment and a nearby beach could be linked safely. By having a clearly defined trail, other native vegetation is not impacted by people wandering aimlessly across the island and with the odd snake sighting a clear path is a good idea!
25 volunteers including several of our crew made light work of the tasks that which planned when meant there was time to tackle a few extra jobs too. We were even lucky to see some amazing wildlife!
Thanks also to Australian Fishing Enterprises who kindly loaned us their tender vessel for the day.
On the way back to Port Lincoln, we came across a Saint Andrews Cross or Special Mark which had come adrift from a nearby aquaculture lease in the wild weather last week. With some finesse from the crew, we were able to retrieve the float and return it to its owners.
Reevesby Island is part of the Sir Joseph Banks Group Conservation Park and was farmed from 1830- 1970. The remains of the homestead, 2 sheds (one standing and one recently collapsed) and various relics of tractors and farming equipment remain on the island.
The FRIG have worked hard over the past few years to save the homestead and plan to shore up the remaining shed before it is lost to the harsh island elements. 'The Group' is popular with local boaties and is located in Spencer Gulf, between Port Lincoln and Tumby Bay some 12-20 nautical miles offshore.
Thank you to Fran from Take 2 Photography for sharing your photos with us!