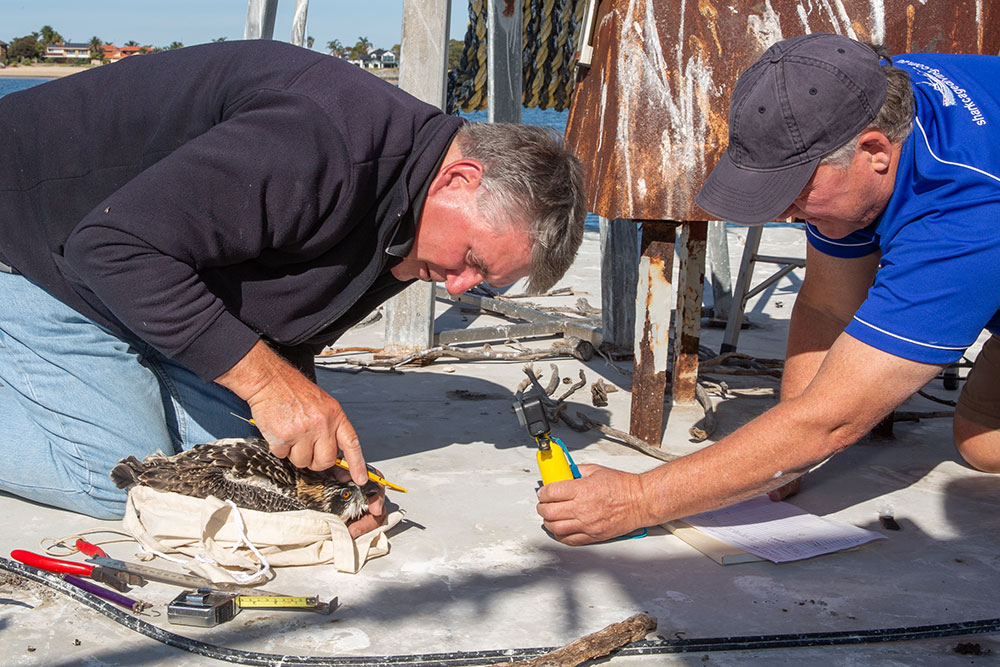 Several years ago, Calypso Star Charters' owners purchased a disused barge moored near the Port Lincoln Marina which had become home to a nest of rare Eastern Osprey.
Over the past few years we have been able to passively monitor the nest by security camera with interest in the Port Lincoln Osprey Facebook page from all over the world. Yesterday, the 2 osprey chicks were banded to enable future identification.
Raptor consultant Ian Falkenberg weighed, measured and banded the two rare eastern osprey chicks, aged 42 days and 40 days and was able to identify both chicks as being female, who are named Calypso & Star.
Mr Falkenberg said projects like the barge could help save the species. "The example used here could very well be replicated in many other areas of South Australia to try and auger an improvement in the breeding of these birds particularly given that they have declined up to 25 per cent in the last few years," Mr Falkenberg said.
These are the first Osprey that have been banded in South Australia in over 20 years and our thanks to the Department of Environment and Water to agreeing to this and for their support.
It was a quick process and life on the nest very quickly returned to normal once we departed.
Fingers crossed that both chicks survive and fledge the nest and if you're interested, don't forget to follow the Facebook page or the live stream on YouTube.