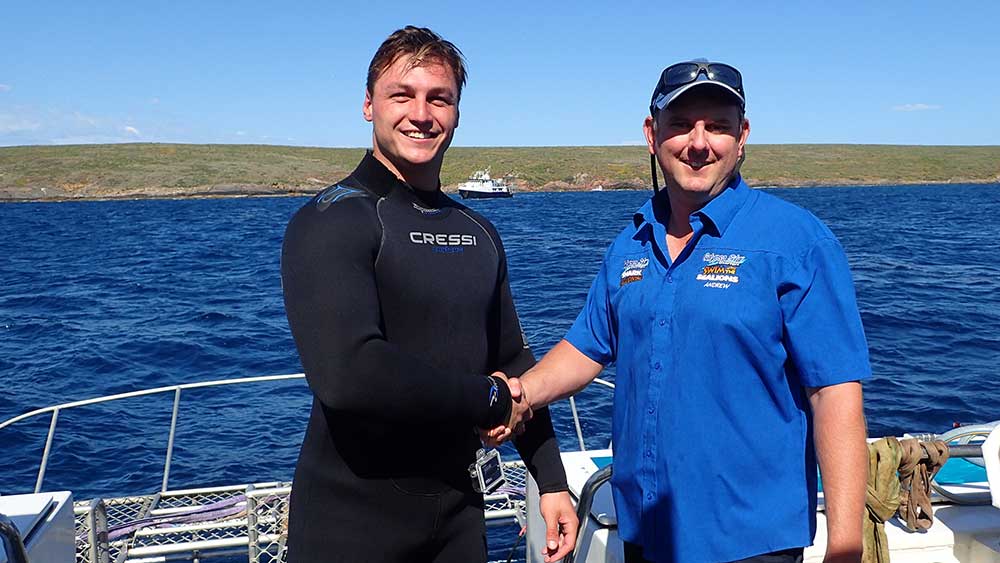 On Thursday 20th October 2016 Calypso Star Charters in Port Lincoln, South Australia achieved a milestone of its 50,000th Shark Cage Diving guest.
General Manager, Andrew Wright said it was a proud moment in the history of the company. "Its been a lot of hard work and I'd like to thank our dedicated staff and suppliers and of course our guests for supporting us along the way. The Shark Cage Diving industry has changed a lot over the years, increased competition and the introduction of Non Activity Days have been a challenge, we've met it head on and worked tirelessly to get to where we are today".
The 50,000th guest was Dylan Holmes from Sydney. He received a free Combo Tour to swim with the Sealions and cage dive with Great White Sharks all in the same day and accommodation at the magnificent Port Lincoln Hotel. It's the first time that he and his girlfriend Trisha Stephens have visited Port Lincoln. Dylan said that "Shark cage diving is something I have always wanted to do, I'm thrilled to be the 50,000th guest, now please can I get in the cage, the sharks are waiting".
From humble beginnings in 1990 by Captain Rolf Czabayski operating his 35 foot Bertram motor cruiser with a passenger capacity of 4, the business was a part time hobby for Rolf, an electrical contractor from Adelaide. In 2000 Rolf reluctantly agreed (after several drinks with friends) to build a bigger boat and in December 2000 the 57 foot MV Calypso Star was launched. The popularity of the multi day tours gradually increased and Rolf retired and sold Calypso Star Charters to Ron and Janet Forster and Andrew and Nicol Wright in 2006.
Multi day tours continued and the revolutionary 1-day charters were introduced on January 1st 2007. Before long, demand outstripped the MV Calypso Star capacity of 19 guests and in 2009 a 65 foot vessel was purchased and a $1.5 million refit was undertaken. In September 2011 the MV Calypso Star 2 was launched with a passenger capacity of 45. A gyroscopic stabilizer was fitted to the vessel in 2013 enhancing passenger comfort and safety.
The MV Calypso Star was extended and repowered in 2012 and now operates the increasingly popular Swim with the Sealions Tours and in recent years, Twilight Cage Dives and Combo Tours where guests can swim with the Sealions and cage dive with Great White Sharks all in the same day. 'The foresight that Ron has shown in introducing the 1 day trips has been incredible, who would have thought we could achieve 70 divers and fill 2 boats in day', Andrew said.
Calypso Star Charters has grown to be the market leader in Shark Cage Diving in Australia, attracting over 8,000 guests to Port Lincoln each year. Operating 2 vessels they employ 9 staff full time and up to 15 casual staff. Proud supporters of the local economy, Calypso Star Charters are committed to its buy local policy, sourcing all products and services locally where possible.
Rodney Harrex Chief Executive at the South Australian Tourism Commission said "We congratulate Calypso Star Charters for this incredible milestone and for delivering this exceptional experience to visitors. The Shark cage diving industry injects over $12.8 million into the visitor economy" he said.
Department of Environment, Water and Natural Resources Chief Executive Sandy Pitcher said "Great White Shark tourism was a tremendous nature-based tourism draw card for South Australia. We are very proud to work with tourist operators like Calypso Star as they provide this unique experience for people from all over the world" she said.
Along with achieving Advanced Eco Certification in 2012, the pinnacle of Calypso Star Charter's success came in 2015 being named Best Adventure Tourism Operator at the South Australian Tourism Awards, going on to achieve a Bronze Medal at the coveted Australian Tourism Awards in 2016, the first South Australian operator to receive a medal in the Adventure Tourism Category.