The Calypso Star Charter story
Calypso Star Charters was founded in 1990 by Captain Rolf Czabayski. Rolf was an avid game fisherman who had tagged and released many Great White Sharks before their protection in 1997.
Fishing to cage diving
Over time, Rolf's attention turned from fishing to cage diving charters. On his 35 foot Bertram vessel Rolf could take 3-4 guests on charters for 3-5 days. In those days there were several locations for Shark Cage Diving including the Neptune Islands, Dangerous Reef and several Islands in the Sir Joseph Banks Group to the North of Port Lincoln.
Cage diving specific vessel
As the business gradually grew, Rolf made the big decision to upgrade his beloved Bertram to the custom built 'Calypso Star' in December 2000. This vessel offered a level of comfort not seen before in Shark Diving in South Australia. Shark cage diving remained a 'hobby' for Rolf, his family home and other business interests were in Adelaide while the boat was in Port Lincoln. The 3-4 day itinerary was the core business and in 2002 Andrew Wright became Rolf's first full time deckhand.
New owners
The business changed hands in 2006 with local business identity Ron Forster and crew member Andrew Wright taking over ownership from Rolf. The one day Shark Cage diving charters were introduced in January 2007 and many thought 'it could never be done'.
With increased promotion the popularity of shark diving increased rapidly. By 2009 demand was such that Ron and Andrew began the process of building a bigger boat to cope with the demand. A vessel was purchased in Western Australia and an extensive refit was completed in Port Lincoln and Adelaide. In September 2011, Hon John Rau MP launched our magnificent vessel MV Calypso Star 2 at a ceremony in Port Lincoln.
Click HERE to subscribe to our company newsletter
Why choose us?
Awarded Australia's Best Tourist Attraction at the 2019 Australian Tourism Awards.
Calypso Star Charters is fully licensed by the Department of Environment and Water.
We're also privileged to be the only one-day shark cage diving operator who is permitted to use natural fish berley to attract the Great White Sharks to our boat at the Neptune Islands Marine Park.
Being permitted to berley provides you with the best possible chance of a shark sighting and productive interaction close to our vessel and cage resulting in a memorable encounter and wonderful photographic opportunities.
We only use locally sourced, natural fish product to attract the sharks, our tethered baits are attached by natural fibre twine. We do not condone placing un-natural objects in the water to visually stimulate or attract sharks. If a shark were to consume any part of a synthetic object (decoy) it could certainly harm them. Our practices are conducted with the utmost respect to the welfare of sharks.
Along with this license, we are proud to be

Advanced Eco Certified and our Captains' are Eco Certified Guides

. Receiving this certification provides us with the recognition that we conduct our operations in a way that are environmentally conscious and sustainable whilst also providing an educational component.
Climate Action Leader - We incorporate strategic climate change responses across all relevant levels of business planning and operations. We measure and audit our carbon footprint via a creditable system and have undertaken an advanced level of adaptation, emissions reduction and offsetting.
Our Great White Shark sighting history is displayed day by day on our website since January 1st 2011 to assist guests in choosing the best time to visit, we are proudly the only company to offer this honesty and transparency to guests. We also provide daily updates across our social media platforms of current sightings and continue this service at times of low or no shark sightings.
No Minimum Passenger Numbers. If you're the only person booked we will still go!
More Departures than any operator. We operate on every available Activity Day and during the summer we operate a twilight charter giving us 2 departures on the same day. The benefit of this is that if your travel plans are disrupted for any reason we are may be able to swap your booking for the next available departure. It also gives us the most comprehensive data set of when sharks have been sighted at Neptune Islands. Currently due to Government regulation there are 4 designated Non Activity Days per fortnight with all operators adhering to the same schedule.
Our vessel Calypso Star 2 is fitted with a gyroscopic active stabiliser, which has reduced the rolling motion of the vessel by up to 80%. If you are susceptible to seasickness do not compromise with a non-stabilised vessel.
Generous No Shark Policy. If you are unlucky and miss seeing a Great White Shark underwater you will be offered a refund of $100 and receive a voucher of $200 off your next tour with us, this can even be redeemed on our Swim with the Sea Lions tour which operate regularly from September to May. After a second unsuccessful trip your 3rd and subsequent trips (if you're really unlucky) are for priced at $100 each to dive. If sharks other than Great Whites are sighted and productively dived with on the day, the No Shark Policy will still apply.
Largest one-day vessel means fewer cancellations due to bad weather. The trip out can be rough but the Neptune Islands give us good shelter from the waves. Our vessel can accommodate up to 45 guests across 2 decks with ample seating in air-conditioned comfort. 2 hot showers are also provided onboard.
Actively support SARDI, CSIRO and Flinders University in their ongoing research into the Great White Sharks and their movement patterns around Neptune Islands. We provide logistical support and positions on board our vessel for researchers to conduct observations and tagging.
100% Safety record. With over 25 years experience you are in good hands.
MV Calypso Star 2
The pride of our fleet and ensures that our guests have the ultimate adventure whilst on our Shark Cage Diving Tours.
MV Calypso Star 2 was acquired in 2009 and underwent an extensive refit to transform her into the magnificent vessel she is today.
In 2013 we installed a state of the art Seakeeper Gyroscopic Stabiliser to reduce vessel roll whilst travelling and at anchor which greatly minimises seasickness and increases comfort throughout the day. We are the first vessel in South Australia to have one installed and the largest commercial vessel in Australia to utilise this technology.
With a covered upper deck and a gyroscopic stabiliser fitted, there is no vessel more comfortable!
MV Calypso Star
MV Calypso Star was launched in 2000 and was purpose built for our Shark Cage Diving Charters. She offers the best safety, comfort and performance. With the launch of Calypso Star 2, the Calypso Star is now used for our Swim with the Sea Lions tours, Twilight Shark Cage Diving and Combo tours.
Shark Display and Office
Located at the Lincoln Cove Marina, our Office and Shark Display is open 7 days per week. Learn about Great White Sharks and Australian Sea Lions. The display also includes a large map of the surrounding areas and Marine Park information.
With no entry fee, feel free to pop in to say hello!
The office is also the place to meet to check in for all tours before boarding.
Free parking and free wifi available!
Meet the crew
Our all local crew are here to make your trip memorable!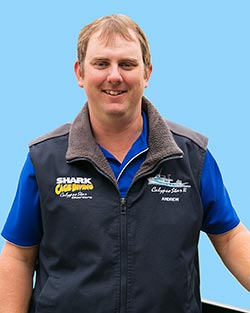 Andrew Wright
General Manager/Skipper
Eco Certified Guide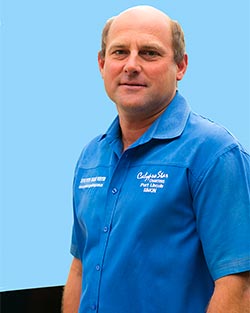 Simon James
Skipper
Eco Certified Guide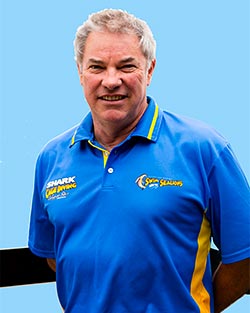 Dave Clayfield
Skipper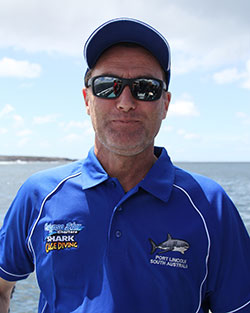 Peter Figl
Skipper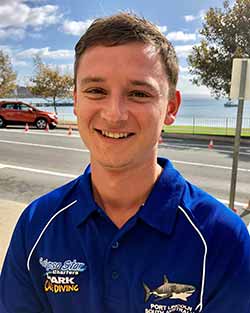 Tom Pietsch
Skipper/Coxswain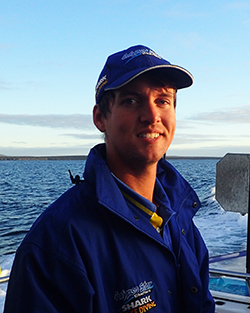 Jack Burgess
Coxswain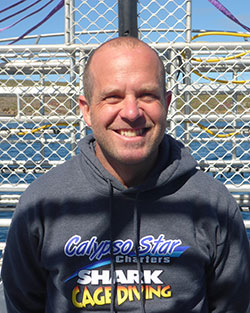 Rich Kendra
Coxswain

Matt 'Crispy' Crisp
Coxswain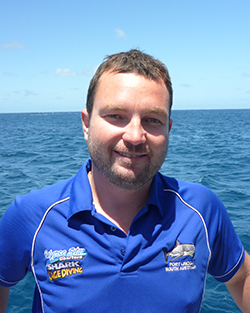 James Longbottom
Coxswain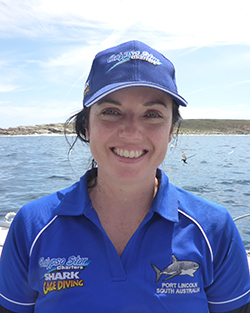 Caz Worner
Hostess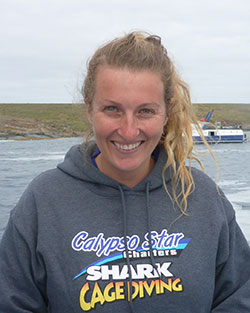 Jess McNair
Hostess/Coxswain

Brooke Taylor
Hostess

Dani Keast
Hostess/Coxswain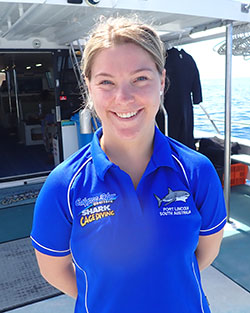 Shayna Sheldon-Elliot
Hostess

Jen Williams
Hostess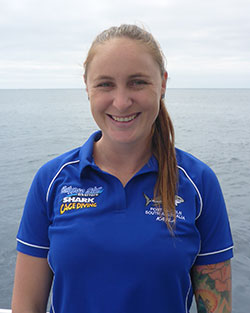 Kayla McGrade
Hostess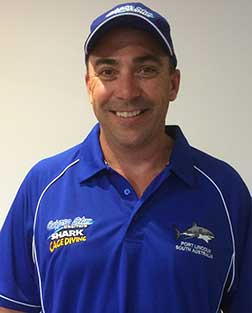 Jamie (Yook) Coote
Coxswain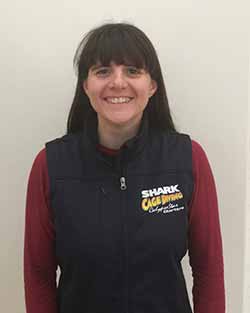 Nicol Wright
Marketing Manager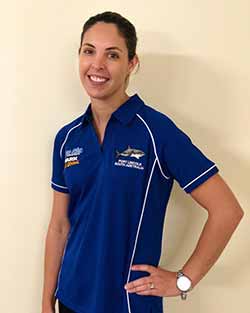 Tara Duncan
Accounts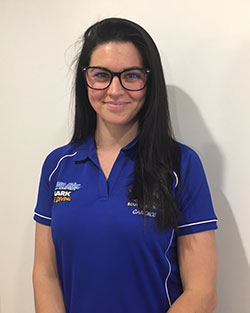 Candice Hill
Booking Officer/Hostess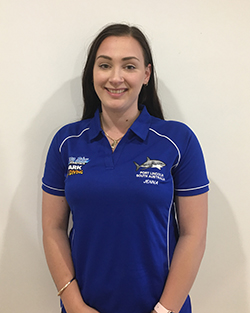 Jenna Arnell
Admin Assistant

Nigella Osman
Admin Assistant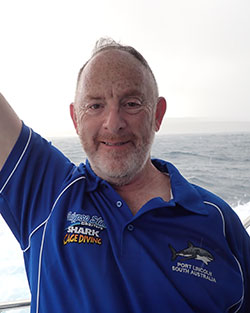 Wayne Tobin
Cleaner/Crew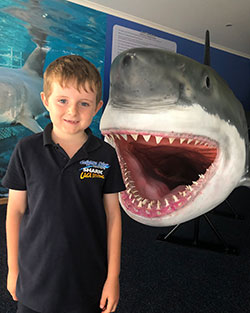 Bradley Wright
Check-in Assistant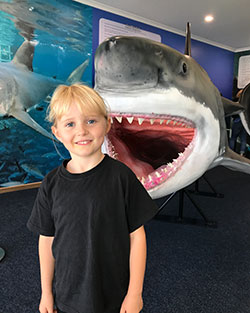 Ebony Wright
Work Experience

Meet Skipper Andrew for a day on the water!
Contact us
Contact our Office on:
Email info@sharkcagediving.com.au
Office Location 3/10 South Quay Boulevard, Port Lincoln SA 5606
Postal PO Box 2058, Port Lincoln, South Australia, 5606
Dive Locations - see a Google map of our Dive Locations
Read about our Dive Locations >

Office Opening Hours
Monday - Friday 9:00am - 5.00pm
Saturdays - 10.00am - 3.00pm
Sundays & Public Holidays - 10.00am - 2.00pm
PLEASE NOTE OUR PHONE IS AVAILABLE 24 HOURS
Port Lincoln Weather
See our travellers reviews on
Trip Advisor